Round the Clock Logistics Landstar Agent Hauls the NASCAR/Allied Esports Trailer 2022
NASCAR attendees are in for an immersive treat this year. They'll have Landstar and Allied Esports to thank. That's because the eNASCAR gaming truck will be at 17 events starting with the DAYTONA 500. 
Then, Round the Clock Landstar Agent hauls the NASCAR/Allied Esports trailer all across the country. But what is this gaming experience and why should racing fans get excited?
The following guide will explore what the arcade on wheels includes and what fans can expect. Learn why the attraction is back by popular demand and how it's transported.
What Is the Nascar/Allied Esports Trailer?
The eNASCAR arcade made its presence felt during the second half of the 2021 Cup Series schedule. It offered NASCAR attendees a special racing experience using iRacing simulators.
The simulators give fans the chance to put themselves in a NASCAR race. They can feel what speeding through iconic tracks feels like. You can find the iRacing simulator on the truck's main stage.
In 2022, fans at select stops of the tour might even catch driver appearances. There will also be live TV and radio hits featuring NASCAR talent. Some lucky fans will even leave the truck with prizes and giveaways. NASCAR has found yet another way to build onto their adrenaline-filled race weekends. The experience lets fans flaunt their driving skills before watching the pros. You can rest assured that Landstar will get the exhilarating trailer to each tour stop. Check out the eNASCAR schedule for more information about dates and times.
Allied Esports Impressive Reputation
Allied Esports offers live experiences, multiplatform content, infrastructure, and interactive services. They also own and operate the HyperX Arena in Las Vegas. It's the most recognized esports facility in the entire world. 
They've created a competitive community for professional esports. They also play host to several popular gaming events. Examples of tournaments include Trovo Titans, Saturday Night Speedway, and Spike Drop.
Allied Esports Trucks is also the very first 18-wheel mobile gaming arena. They've shown dedication to gaining players and gaming innovation. Trusting Landstar helps represent their brand and prove their reliability.
Analysts predict over 29 million esports viewers per month in 2022. That's more than an 11 percent increase compared to 2021. Furthermore, reports show that esports will surpass $1 billion in revenue this year.
NASCAR sees the value of gaming in today's culture. They also recognize the importance of on-time delivery and first impressions. So, partnering with Allied Esports and Landstar is a smart and forward-thinking decision.
Round the Clock Logistics Landstar Agent's Important Role
Round the Clock Logistics Landstar Agent prioritizes logistics reliability, professionalism, safety, and always puts the customer first. Round The Clock Logistics is an independent Landstar agency. We've been an industry leader dating back to 2010. 
These qualities made Landstar the perfect choice to transport the Allied Esports trailer. All trucks are carefully checked and tested before hitting the road. It ensures that deliveries and shipments always arrive on time.
Landstar drivers get trained and certified for several types of transportation and scenarios. Our knowledgeable team also includes skilled logistics experts and dispatchers. All these components make for fast and flexible service.
Constant communication with our clients is key. Especially with firm delivery dates such as the 2022 gaming truck tour. It's a complex process and keeping clients informed at all times is crucial to success.
Specialized Round the Clock Logistics Landstar Agent  Services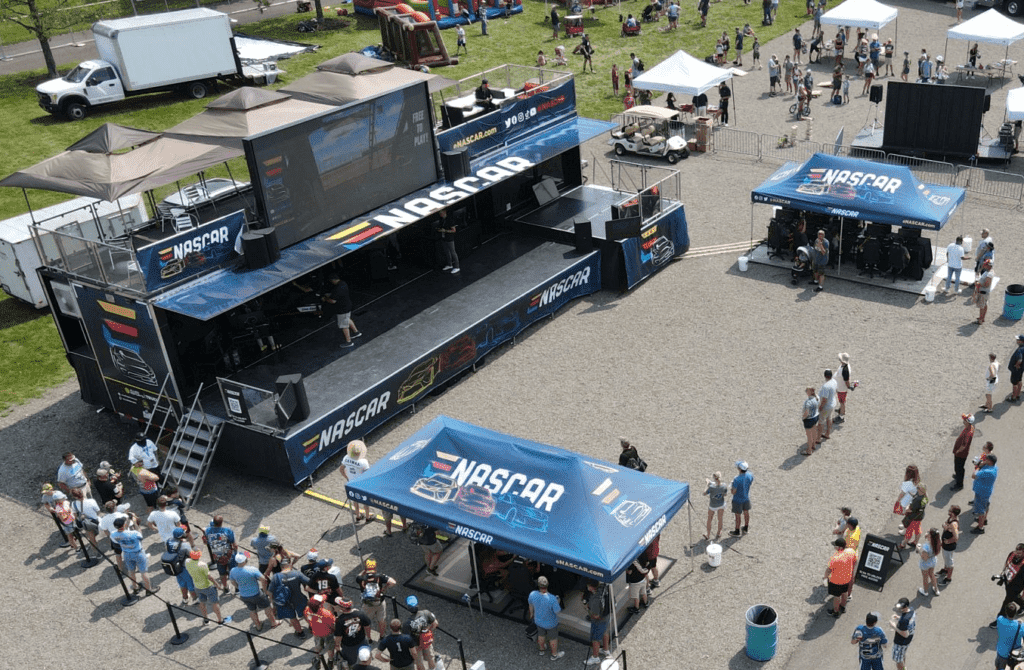 Hauling the Allied Esports trailer is one of many specialized transportation services. We also work closely with the entertainment industry. Examples include concerts, music festivals, and stage transportation.
Round the Clock Logistics Landstar Agent handles transportation for many trade shows, experiential marketing transportation. We have the capabilities and experience to handle any live event you can think of.
Our office also provides shipping options using dry vans and flatbeds. We also handle expedited, hazmat, and heavy haul shipments. Our logistics services even cover transportation to Canada and Mexico.
Round the Clock Logistics is a full-service solution for specialized and express transportation. We work closely with production and tour management teams. Our methods ensure that their tours run smoothly.
We guarantee extremely careful route planning. We consider state and national regulations and all other transport-related issues. Landstar also offers auxiliary loading/unloading services, split-ramps, and liftgates.
Landstar provides specialized services for industries such as retail, entertainment, and food services. We're trusted with sensitive medical industry materials, high-value electronics, and art.
Careful Handling
As you might have guessed, the eNASCAR arcade is full of valuable and sensitive equipment. That's why Landstar's high-value solutions and secure deliveries are so important. 
Round the Clock Logistics includes a knowledgable special commodity division. We never cut corners and always make sure to deliver goods exactly as they left. Our main services offer over-dimensional freight hauling and commercial blanket wrapping. We're also capable of expedited ground deliveries and high-value shipping. We work side by side with our customers across many North American industries. Our caring staff excels in transporting shipments of all sizes. We handle everything from industrial equipment to fragile museum displays.
Round the Clock Logistics is a safe solution for shipping anything fragile. This includes items without cartons or crates that need delicate attention.
Will You Be at the Track?
Will you have the opportunity to visit the NASCAR/Allied Esports trailer in your city? If so, you know that it will arrive on time with all the equipment intact. That's thanks to Landstar's dedication to excellent service.
Let us know if you have any questions about our services or competitive pricing. We're confident that our fleet can handle the scope of any job that you have for us.
More Posts You May Find Interesting